Remote control is coming to SunSDR2 PRO, MB1 and the ColibriDDC receiver! The new remote control protocol is efficient and gives you the full SDR experience using a simple ADSL connection or a 4g mobile data modem. Its fast, light and capable – its like having your SDR transceiver or receiver in front of you!
Until now many hams remotely control their transceivers using additional hardware or a patchwork of unreliable third party software. This hassle ends now!
With a soon-to-be released version of ExpertSDR2 the way you look at remote control is going to change! ExpertSDR2 has a solution to the problem of transferring SDR data over the internet without losing the full experience of the panadapter.
How does it work?
The concept is simple but genius; we take the audio signal you listen to and add the data points needed to recreate the panadapter in the other end. The efficient protocol has predefined quality settings ranging from low to high, consuming bandwidth from 70 kbps to 1 Mbps. Data packets are prepared using a server application running on a PC in the same network as the ColibriDDC. In the remote shack a special remote control version of ExpertSDR2 is used to access the server connected to your SunSDR2 PRO transceiver or ColibriDDC receiver.



To setup ExpertSDR2 for remote control couldn't be simpler! Just enter the server public IP and server port to reach your radio, then pick a suitable bandwidth and connect. 240 kBit/s is a good compromise of performance vs. bandwidth to start with.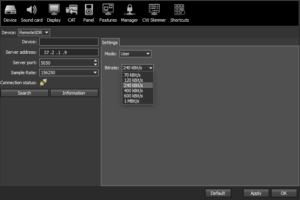 More advance users who needs detailed control of the performance can use the Expert mode to customise a variety of settings including turning audio compression on or off, setting audio bit rate and optimising the FFT size and FPS (frames per second) for the spectrum/panadapter view.


To use remote control you need two news applications;
ExpertRS – A remote server application that installs on a PC in the same network as the ColibriDDC receiver or SunSDR transceiver.
ExpertSDR2 Remote – A remote control application that is used to connect to ExpertRS to control the ColibriDDC receiver or SunSDR transceiver.
Sign up for our news letter to be the first to know when remote control is being released.
What's Next?
How about not needing a PC server in the radio end? Watch this video to see the minimalistic setup of a remote receiving station. This is a prototype using a Raspberry PI 2 as the server.
When is remote control available?
Remote control is still under development and the goal is to release the first version during this summer. Stay tuned to SunSDR.eu or sign up for our news letter at the bottom of this page to get the information first.
More information about the ColibriDDC SDR receiver is found here, the SunSDR2 PRO here and the MB1 here.